The 8 Types of Boots Every Woman Should Invest In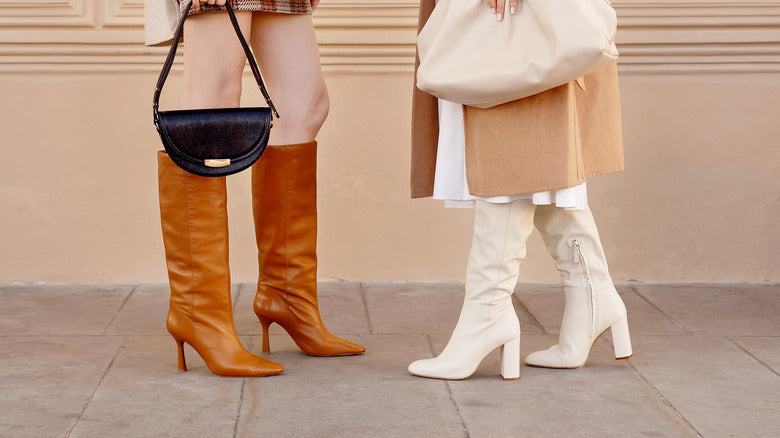 Boots make a great addition to every woman's wardrobe, but some styles are must-haves. Women's boots are a must-have for any fashion-savvy woman. There are a variety of boots to choose from. So, you're sure to find the perfect pair for your unique style. From ankle boots to over-the-knee boots, we have a boot for every occasion. Whether you're dressing up for a special occasion or dressing down for everyday wear, our selection of women's boots will have your feet looking amazing.
How to Find the Best Women's Fashion Boots
Here are a few tips on how to find the best boots for your unique needs:
Start by narrowing down your selection based on the type of boot you're looking for. There are crepe boots, suede boots, and plenty of other options.
Next, consider the style of the boot. Are you looking for a classic boot that will go with anything? Or do you want something more unique that stands out?
Consider your budget. Do you want to spend a little bit more money on a higher-quality boot or do you want something less expensive but still effective?
Finally, consider your foot size and shape. Some boots fit tightly and may be uncomfortable if you have larger feet or toes. Conversely, some boots fit loosely and may not be as supportive or comfortable if your feet are narrower or shorter in height than average.
Before you buy your next pair (or even first pair) of boots, take a look at the eight types of boots we believe every woman should invest in.
Ankle Boots
Ankle boots are one of the most popular fashion boots for women on the market.
They provide excellent ankle support and can be worn with many different outfits. When choosing ankle boots, it is important to consider the type of boot you are buying and the outfit you will be wearing. Wedge boots have an almond-shaped toe profile and are most popular for women who want high heels but don't want a big heel on their boots.
Taller ankle boots will help elongate the legs and are perfect for cropped pants where you don't want a gap between your pants and boots. Shorter ankle boots can make your legs look shorter, but they do work best with longer and tighter-fitting pants.
Knee Length Boots
Knee-length boots are perfect for cooler weather. These boots will keep your feet warm and comfortable all day long. In addition, knee-length boots are stylish and versatile. You can wear them with any outfit, whether you're dressing up for a special occasion or just going out for the day.
If you're thinking of buying knee-length boots, be sure to consider the following factors: fit, comfort, and style. Try on a few pairs of boots in different sizes to find the perfect fit. You also want to ensure that the boots are comfortable and fit your feet perfectly.
Knee-length boots look best when they fit snugly on your calf. They shouldn't slip at the heel, but at the same time, they shouldn't feel too tight nor leave too much of a gap.
Chelsea Boots
Chelsea boots are the quintessential boot every woman needs in her wardrobe.
They can be worn with anything from a casual outfit to a more formal affair. There are many Chelsea boot styles to choose from, so it's important to find the right fit. They are timeless boots with a low heel that makes them extremely versatile.
Chelsea boots are typically ankle-high boots with close fitting and have an elastic side panel. They are easy to put on due to the tab at the back and are quite popular with both men and women. Chelsea boots have been part of pop culture for decades, stretching back to the Beatles.
Combat Boots
Combat boots probably aren't a style that many would consider an essential wardrobe item, but they are certainly popular. Typically made from leather, these large durable boots are popular in grunge and goth styles.
Combat boots are quite comfortable for walking in, and are often worn with jeans or leggings. Or, the perfect pair can be teamed with a floral mini dress for the perfect mix of grunge and feminine for summer.
When trying on, combat boots should feel snug on your foot, but still, allow for movement when flexing your foot.
Rain Boots
You might know them as wellies or gumboots, but a pair of rain boots is essential, particularly if you like getting out and gardening or attending outdoor concerts. The weather can be unpredictable, so having a pair in your wardrobe means that you are ready to go for any type of weather.
Fit is important when buying rain boots - too large and you'll find yourself clenching your toes to keep them on, too small and you'll find them rubbing on your legs. Find a pair that are slightly loose around the calf to help them breathe. Don't forget to wear a pair of comfortable socks to give your foot some extra cushioning.
Desert Boots
Desert boots are low ankle boots, characterised by open lacing and just two-three eyelets. These boots are lightweight and perfect for that in-between weather - autumn and spring where you don't want light summer shoes, and winter boots are just a little too heavy.
These boots aren't the best for wearing in wet weather, but they are perfect for casual days out shopping, at the cricket or wear to a brunch date.
Biker Boots
Biker boots are perfect for a range of looks. They can be worn with skirts and dresses for a more classic look, or with jeans and a T-shirt for an edgy feel. While these boots are typically worn to protect the feet when riding a motorcycle, they have certainly become a mainstay in the fashion world.
Biker boots make a great statement shoe, and if you are looking to make them the focal point of your outfit, choosing a pair with studs, details or in colours other than black is a great option.
Heeled Boots
A pair of heeled boots can certainly make your legs look fantastic. They create definition in your calf, elongate your legs, and help them to appear skinnier. Whether you choose ankle length or longer, a great pair of heeled boots can make your outfit pop.
Boots with heels can be worn with numerous outfits and can take you from a day in the office to a night out with the girls. These boots tend to be comfortable to wear, but if you do already have trouble with your feet, make sure you get fitted correctly.
Boots can make a great addition to your wardrobe. If you're looking for women's leather boots in Australia, check out the range at Human Shoes - you'll find something to match every outfit.